Best Smart TV's Under 50000Rs
Hello guys, this is geeky m again with the list of Best smart TV's under 50000rs. My colleagues, friends, and relatives always ask me about best tv's in LED, Big sizes, Full HD ranges, Smart TV's and other ranges in TV series. Its big task for sorting best TV's because of hundreds of choices are there in this range. sometimes even I get confused to chose a better TV among them. So, instead of getting worried and tired of searching I will be posting a series of best TV's posts in different categories. Today will see the top Best smart TV's under 50000rs in the Indian market.
Best Smart TV's Under 50000Rs
Read Smart TV buying tips
The video qualities getting better and better every day so buy most future proof models like FULL HD, 4K and ULTRA HD

Pick better dynamic ranges varying levels of HDR quality, as well as different formats like HDR10 and HDR10+, Dolby Vision, and Hybrid Log Gamma
Go for better refresh rates likely 60Hz+
Check for at least 3-4 HDMI ports (though 4 is better). If  anycase you are going to use a soundbar or an A/V receiver with your TV, make sure it supports HDMI ARC
Test sound qualitie of the TV's, most of the times the inbuilt sound system not perfect, so you may need buy additional sound bars or home theatre sound system
Check for warranty and extra protections provided by the comapnies
You can register online for advance warranty confirmations
Sorting out a list of best smart TVs under 50000 thousand rupees is bit big task because the list includes different sizes, screen types, and variations. So, I decided to break down the list into smaller ones. Lets first see top best smart TVs in 55 inches or 140cm  category.
Best 55inch Smart TV's Under 50000Rs
55-inch smart TVs with UHD 4K resolution makes the viewing experience completely amazing. Watching videos, action movies, animations and HD wildlife animal documentaries give you a spectacular movie watching feel. It makes you live in the video by forgetting surroundings.
This list is purely prepared based on feedback i got on the market and user ratings on ecommerce platforms.
Best smart tvs under 50000rs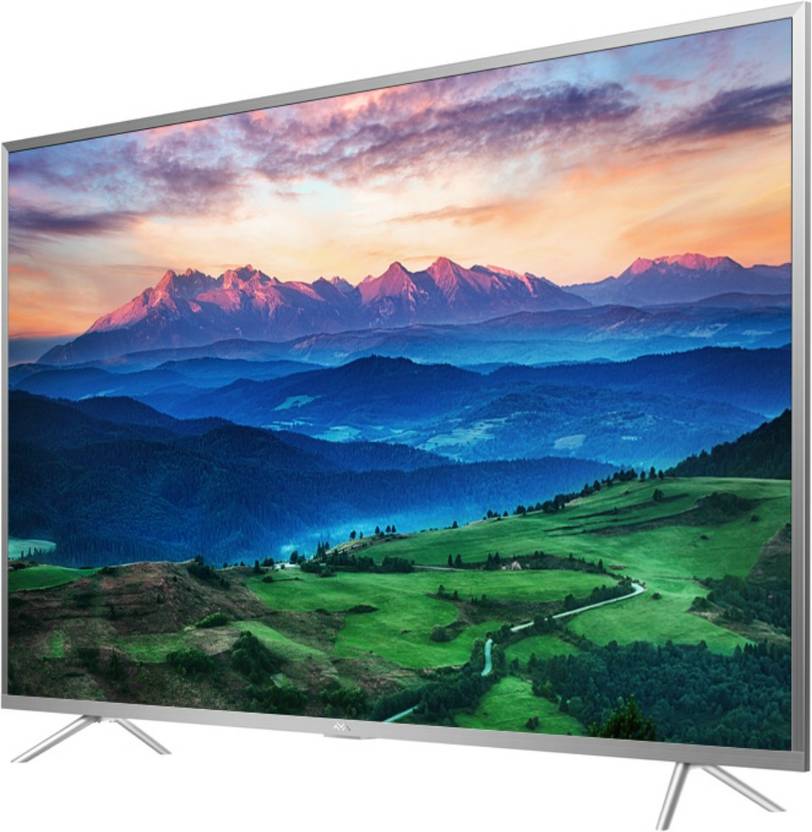 Rating 4.6/5
Screen Type – LED
HD – YES
UHD (Ultra HD) – YES
4K – YES (3840 x 2160 Pixels)
Dolby – Dolby/DTS
Curved Screen – NO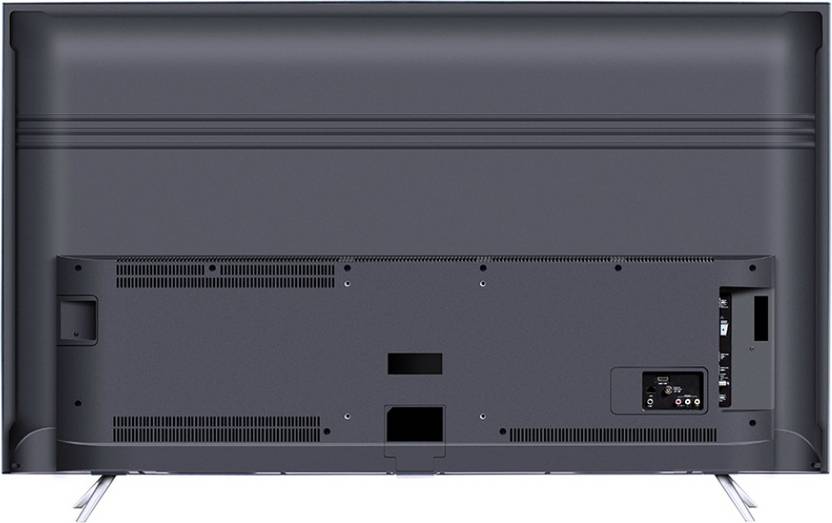 OS – Official Android
HDMI Ports – YES, 4 Side
USB – YES, 2 Side
Bluetooth – N/A
WiFi – YES, 802.11 a/b/g/n (2.4 GHz/5 GHz)
Internet Features – Screen Mirroring, Pre Installed T-Browser, Pre Installed Apps: Google Play Store/Google Play, Youtube Supported, App Store Type: Google Play Store, Android Play Store, Chrome Cast Ethernet Port – YES, 1, RJ45
View Angle – 178 Degree
Contrast Ratio – 6000:1 Static
LED Display – YES, ELED
Refresh Rate – 60Hz
Video Formats – H.265, H.264, VP9, MPEG1, MPEG2, MPEG4, VC1, WMV, TS, MKV, AVI, MP4
Smart Features – Quad-Core A53 Processor, Dual Core Mali Graphic Processor
RAM – 2.5GB
Storage – 16GB
Youtube – YES Supported
Netflix – YES Supported
Speakers – 2 Stereo Box Speakers
Speaker Output – 16W
Remotes – 1 Basic Remote + 1 Smart Remote
Warranty – 1 year
Buy it here: iFFALCON by TCL LED Smart TV K2A
---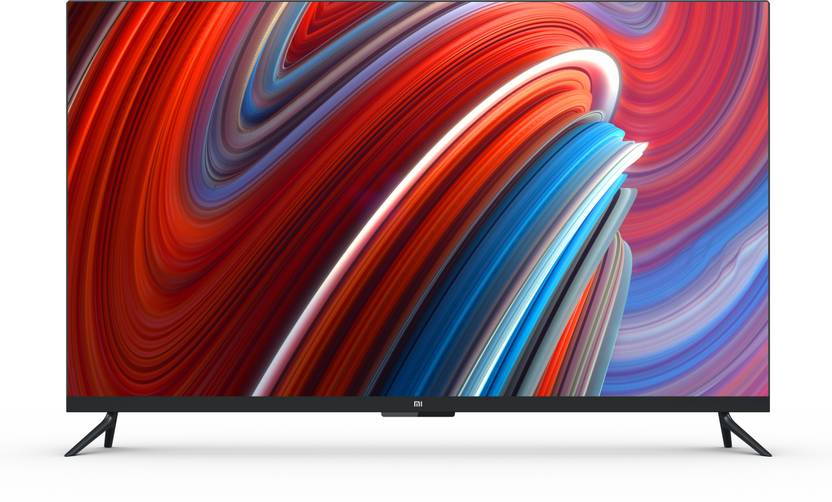 Rating – 4.5/5
Screen Type – LED
HD –  YES
UHD – YES, 3840X2160
4K – YES
Dolby – Dolby/DTS
Curved Screen – NO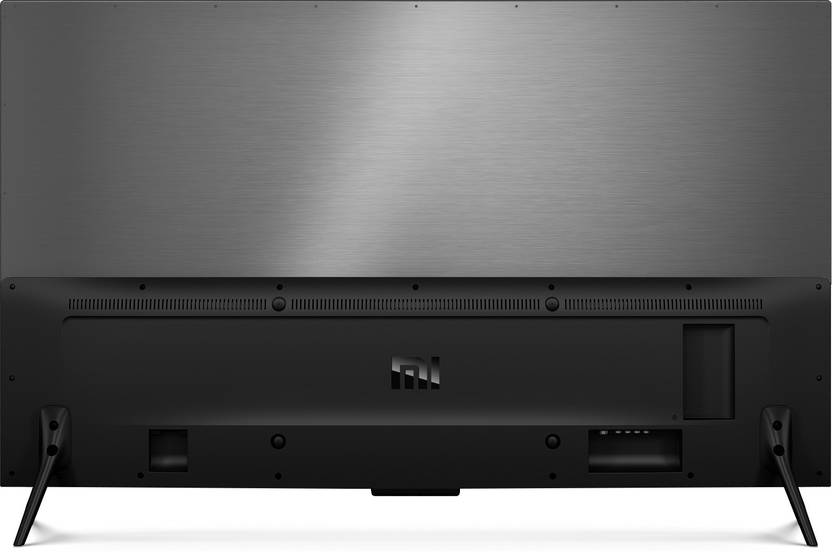 OS – Andoird
HDMI – 3 SIDE
USB – 2 SIDE
Bluetooth – Bluetooth 4.0
WiFi – YES, InBuilt
Internet Features – Supported Photo Formats – PNG, GIF, JPG, Bluetooth Version – 4.0, Operating System – Patchwall (Designed for India), Audio Equalizer, Total Surround Sound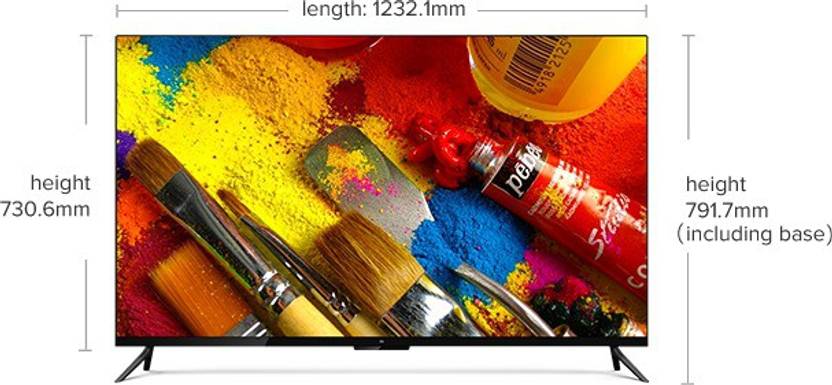 Ethernet Port – 1 RJ45
View Angle – 178 Degree
Contrast Ratio – 6000:01:00 Static
LED Display – ELED
Refresh Rate – 60Hz
Video Formats – H.265, H.264, MPEG1/2/4, REAL
Smart Features – Processor Amlogic 64 bit Quad-core, Graphic Processor Mali-T830 MP2 Graphics


Content Providers
Hotstar, Voot, Sony Liv, Sun Nxt, Zee5, Hungama Play, ALT Balaji, Viu, TVF Play, Flickstree.
Content Languages
Hindi, English, Telugu, Malayalam, Kannada, Tamil, Punjabi, Bhojpuri, Marathi, Bengali, Gujarati, Oriya, Sinhala, Urdu, Rajasthani
System Languages
English, Hindi, Bengali, Tamil, Telugu, Kannada, Malayalam, Assamese, Marathi, Gujarati, Punjabi, Oriya, Urdu
RAM – 2GB
Storage – 8GB
Speakers – 2 Speakers total surround
Speaker Output – 16W
Remotes – 1 Remote
Warranty – 1 Year on Product + 1 Additional Year for Panel
Buy it Here: Mi LED Smart TV 4 138.8 cm (55)
---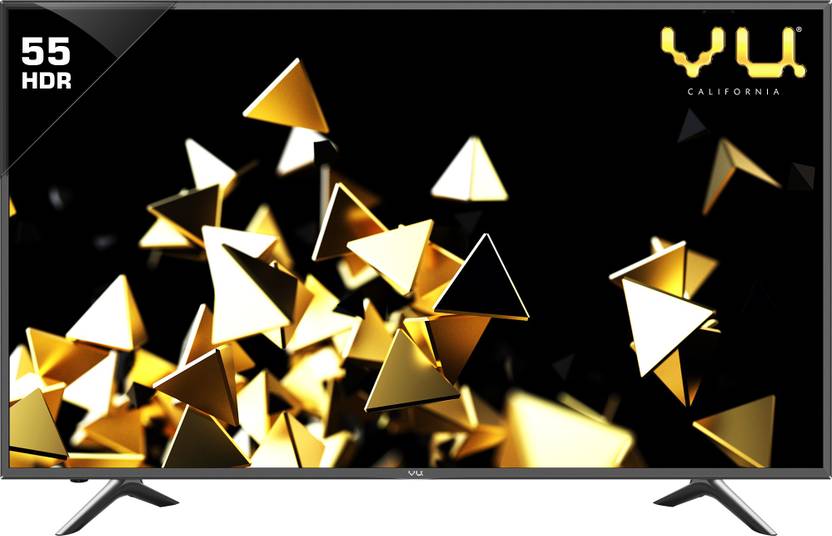 Rating – 4.4/5
Screen Type – LED
HD – YES
UHD – YES
4K –  YES, 3840X2160
Dolby – Dobly Digital, Dbx-tv
Curved Screen – NO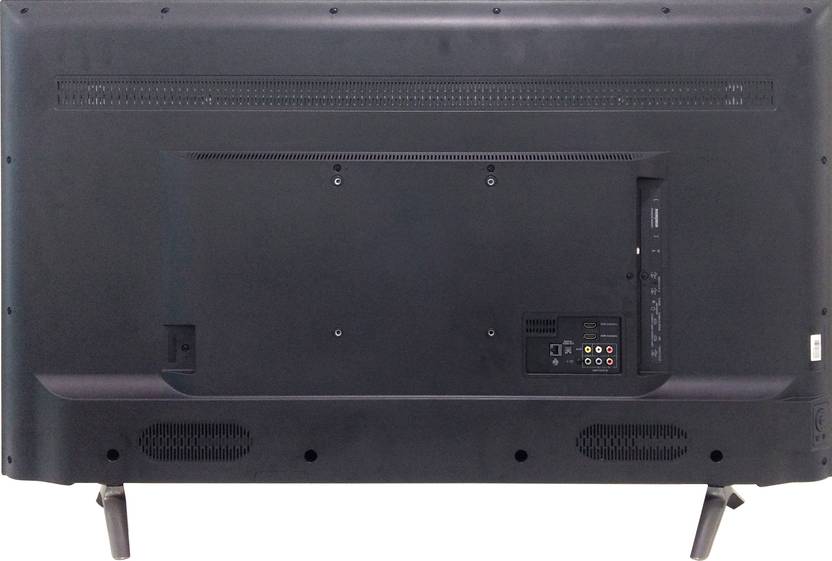 OS – Linux Based
HDMI – 4 Back
USB – 3 Back
Bluetooth – N/A
WiFi – YES, Wi-Fi Bands: 2.4/5 GHz
Internet Features – Anyview Cast (Screen Mirroring), App Shortcut Button on Remote: Netflix, YouTube
UHD (4K) Streaming ,App Store, Web Browser: Opera , Facebook, Games Center, Kidoz, AccuWeather
HDMI CEC, Network Ethernet Portal
Ethernet Port – 1 RJ45
View Angle – 178 Degree
Contrast Ratio – n/a
LED Display – DLED
Refresh Rate – 60Hz
Video Formats – AVI, WMV, ASF, MP4, MOV, 3GP, MKV, MPG, MPEG, VOB, RM, WebM, VRO, OGM, FLV, HEVC Function, Decoder: H.265, H.264, MPEG4, MPEG2, DIVX, Ultra Smooth Motion Rate
Auto Backlight Scan, 4K Movies Support in USB Mode, Video on Demand, HDR 10
Smart Features – Movie Talkies, Red Bull TV, Cricket worldWeather Network, Earth Touch, Caters TV, Ultimate Classic, Picture Stream, Fashion TV, Cook, Clasical Music, World Clock, Driving Sports TV, Foodball Daily, Yoga Sessions, CNBC International, Memory Game, Family TV, DW, Pitbull, KidVid, Race World, The Washington post, Viewster, Red karaoke, Foody TV, Sudoku, Zoomin TV, Disco TV etc.
Youtube – YES
Netflix – YES
Speakers – 2 tweeter, mid range
Screen Mirroring – Yes
App Store Type – Opera
Pre Installed Browser – Opera
Content Providers – Youtube, Netflix, Yupp TV, Facebook,AccuWeather, icflix, Viaway, Plex, Dailymotion, Game Center, TED, Toon Goggles, Aol.On, Kidoz, tvitterOpera TV, Browser
Supported Devices for Casting – Laptop, PC
Speaker Output – 24W
Warranty – 1 Year Vu Domestic Warranty
Buy it Here Vu 140cm (55 inch) LED Smart TV  (LTDN55XT780XWAU3D)
---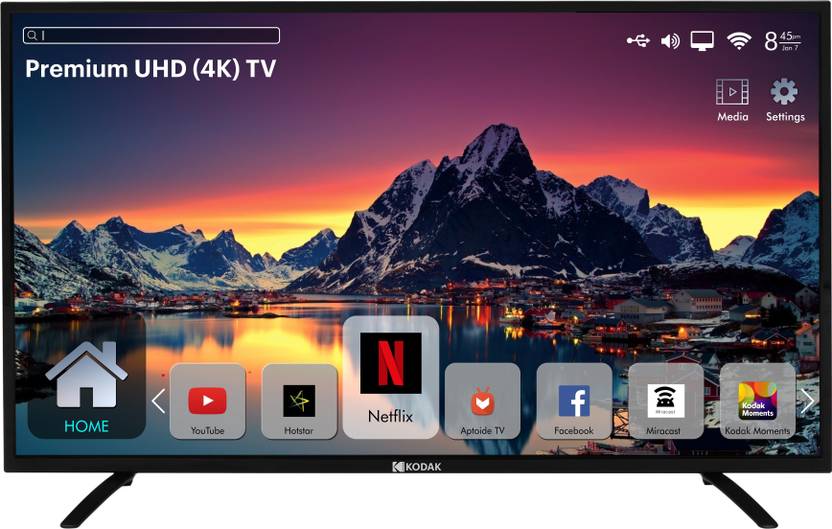 Rating – 4.1
Screen Type – LED
HD – YES
UHD – YES, 3840X2160
4K – YES
Dolby – NO
Curved Screen –NO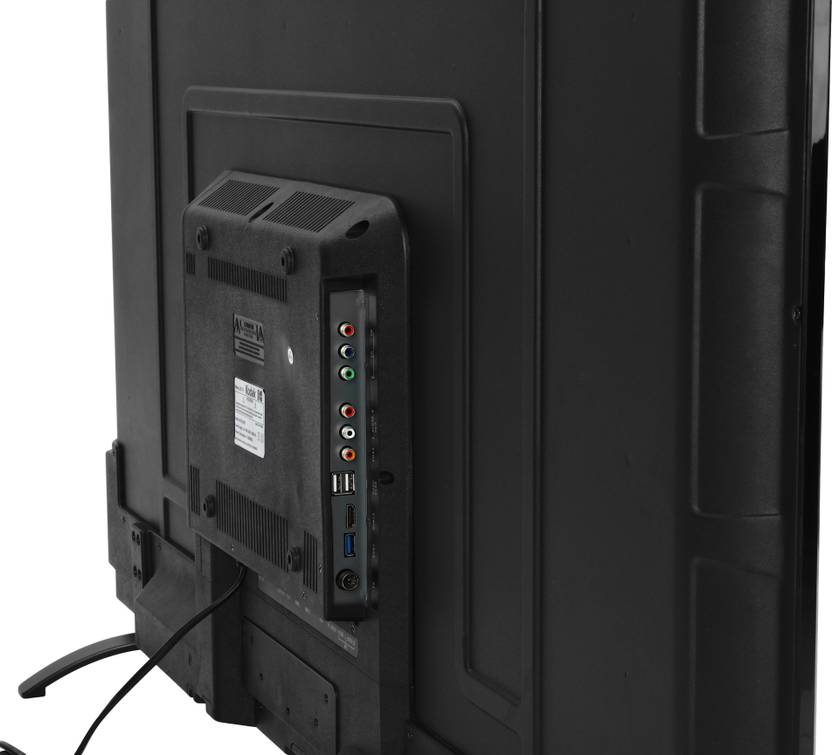 OS – Android Based
HDMI – YES, 3 Side
USB – 2 Side
Bluetooth – n/a
WiFi – YES
Internet Features – Web Browser, Any View Cast (Screen Mirroring), TV Store, Facebook, Quick Interface
Type of App Store: Aptoide and Application Mall, Pre-installed Browser, Pre-installed Apps: Hotstar, Netflix, Youtube, Miracast, Aptoide TV, All Major Apps Supported, Supported Mobile Phones: Android
Ethernet Port – 1 RJ45
View Angle – 178 degree
Contrast Ratio – 6000000:1 (Dynamic) (Static)
LED Display – Direct LED
Refresh Rate – 60Hz
Video Formats – 4K via USB, 
Smart Features – Processor CPU – Cortex A53, Graphic Processor Mali T-720
RAM – 1GB
Storage – 8GB
Youtube – YES
Netflix – YES
Speakers – 2 Automatic audio volume and Equalizer 
Speaker Output – 20W
Remote – 1 Remote
Warranty – 1 Year Kodak India
But it Here Kodak 140cm (55 inch) (55UHDXSMART)
---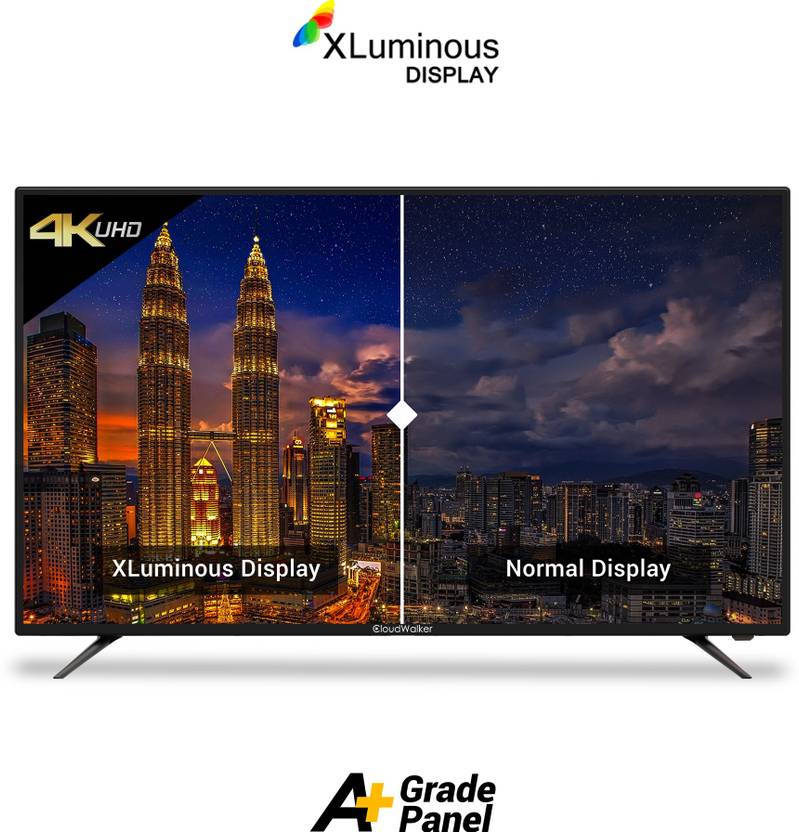 Rating – 4.1/5
Screen Type – LED
HD – YES
UHD – YES
4K – YES, 3840X2160
Dolby – YES, Dolby
Curved Screen – NO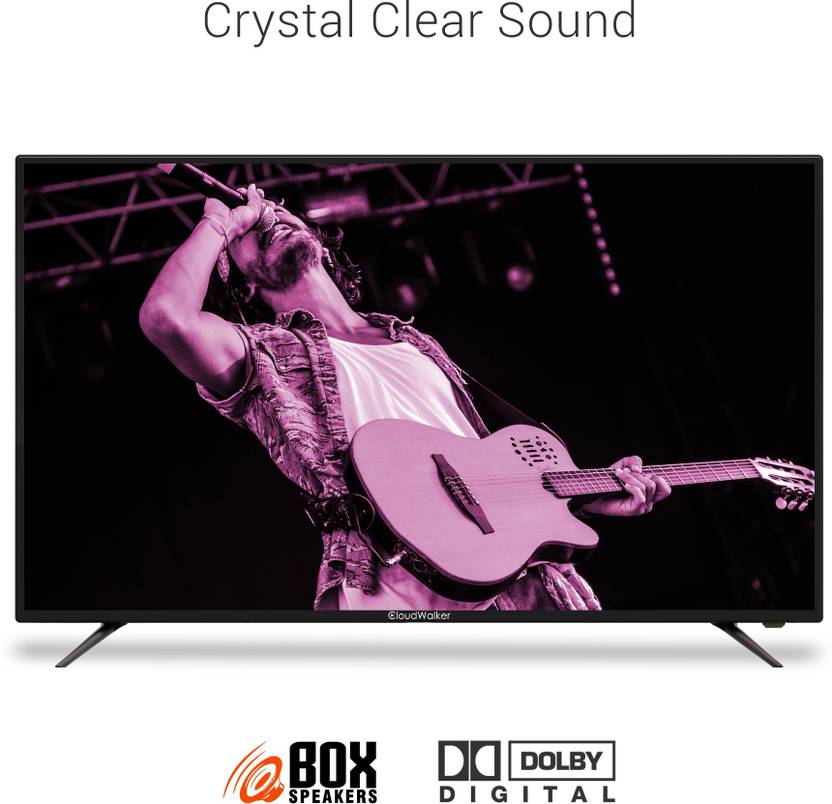 OS –  Android Based
HDMI –  3 Side
USB – Side
Bluetooth – Bluetooth 4.0
WiFi – YES, Inbuilt and Dual Band
Internet Features – Downloads & Plays Android Apps like YouTube, Netflix, Hotstar, Amazon Prime, ShowBox, MoviesHD etc, Free Content Discovery Engine, Android 4.4, Regular Software updates by OTA, Smart Search: Search Online Videos on TV, C-Share interface for Mobile content & Mobile remote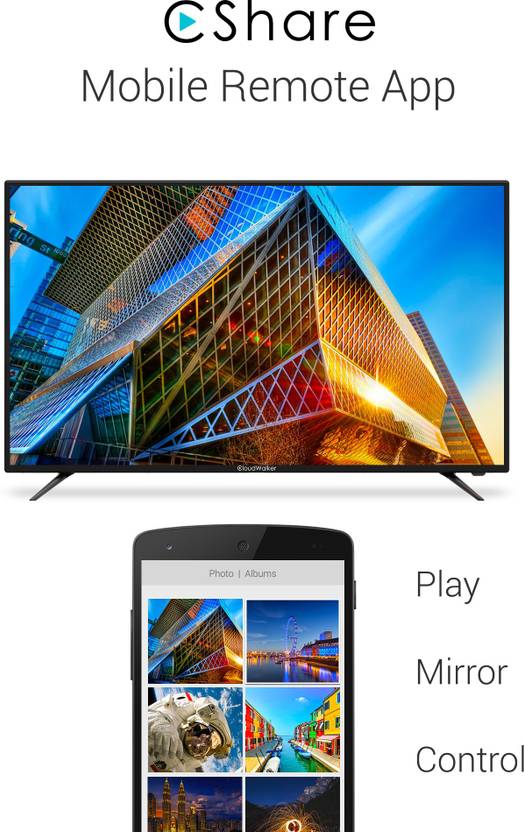 Ethernet Port – 1 RJ45
View Angle –  178
Contrast Ratio – 3500:1 (static) (Static)
LED Display – Direct LED
Refresh Rate – 60Hz
Video Formats – n/a
Smart Features – Xluminous Display, Bluetooth 4.0, Super Remote, CShare Screen Mirroring, Dynamic Noise Reduction, HDMI-ARC (Audio Return Channel), Built-in Digital Media, Digital COAX, Ethernet Port
USB Movie, Line-out, AV (IN), Supports all apps google play
RAM – 1GB
Storage – 8GB
Youtube –  YES
Netflix – YES
Speakers –  2
Speaker Output – 16W
Remote – 1 Smart Remote
Warranty – 1 year
Buy it Here CloudWalker CloudTV (CLOUD TV 55SU)
---
Best 50inch Smart TV's Under 50000Rs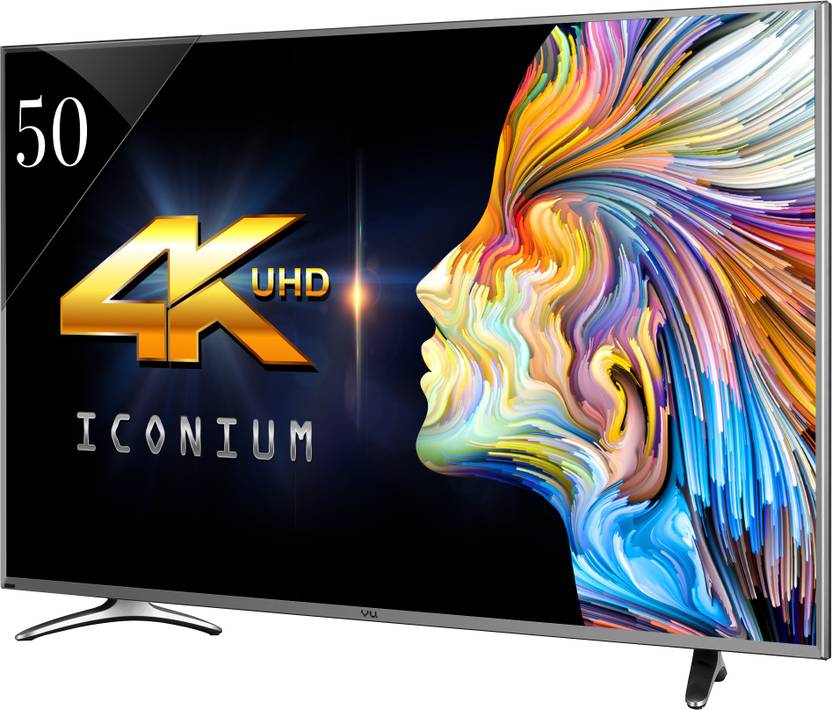 Rating -4.5/5
Screen Type – LED
HD – YES
UHD – YES
4K – YES, 3480X2160
Dolby – Digital dbx TV Audio Enhancement
Curved Screen – NO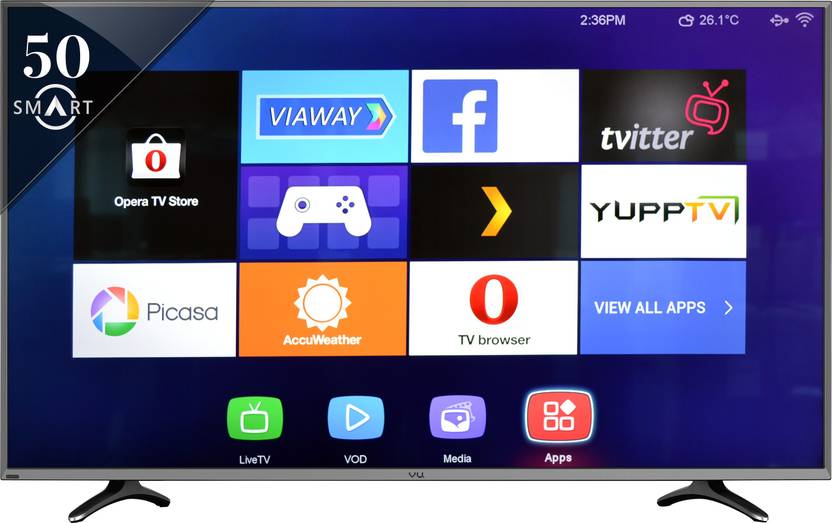 OS – Smart OS
HDMI – 4 Back
USB – YES, Back
Bluetooth – n/a
WiFi –  YES, Built In
Internet Features –  Wireless IEEE 802.11N: Internal, DLNA Compliance, Any View Cast (Miracast), Opera TV Store, TV Web Browser, Youtube, Facebook, Picasa
Ethernet Port – YES RJ45
View Angle – 178 Degree
Contrast Ratio –  Backlight Control, Adaptive Contrast, 1:1 Pixel Mapping
LED Display – DLED
Refresh Rate – 60Hz
Video Formats – DivX Decoder, H264 Decoder, HEVC, Movies Support in USB Mode, HEVC and MPEG H.264 Decode
Smart Features – Still Image, OSD Transparency Control, Software Version OSD Indication, 4X Graphics Engine, A+ Grade Panel, Wide Viewing Angle, Auto Backlight Adjust, Ultra High Definition Panel
Ultra Smooth Motion, Adaptive Contrast, Energy Efficient, Digital Media Player (DMP) for Music, Video and Photographs and Text, Digital Noise Reduction,White Balance, Total Surround, Lip Sync Adjustment, Digital dbx Sound
Youtube – YES
Netflix – n/a
Speakers – 2, 20W, Automatic Volume Level (AVL), Audio Equalizer, Digital dbx TV Audio Enhancement, Total Surround, Lip Sync Adjustment, Digital dbx Sound
Remote – 1 Remote
Warranty – 1 Year
Buy it Here Vu 127cm (50 inch) (LEDN50K310X3D)
---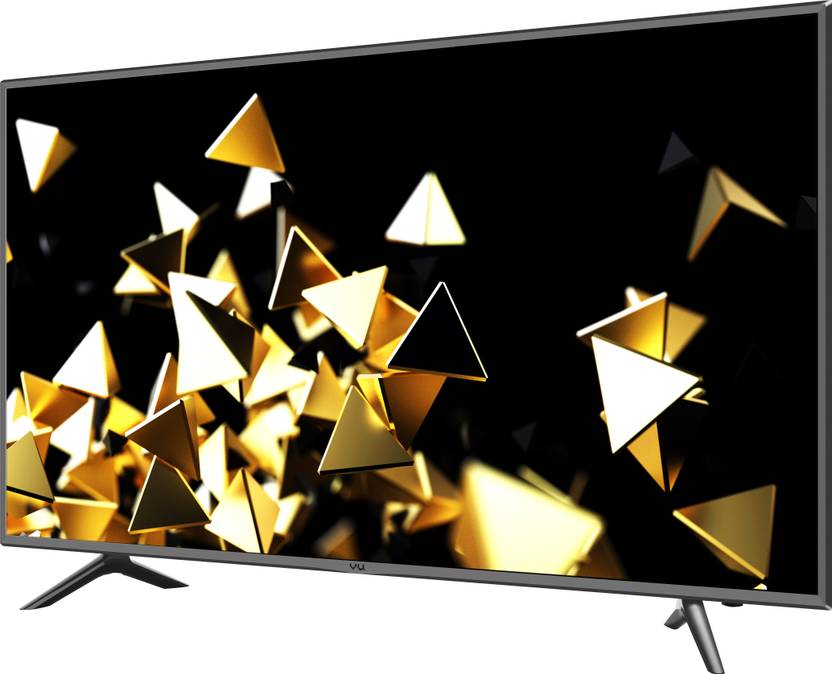 Rating – 4.4/5
Screen Type – LED
HD – YES
UHD – YES
4K – YES 3840X2160
Dolby – Dolby Digital, dbx-tv, Total Sonics
Curved Screen – NO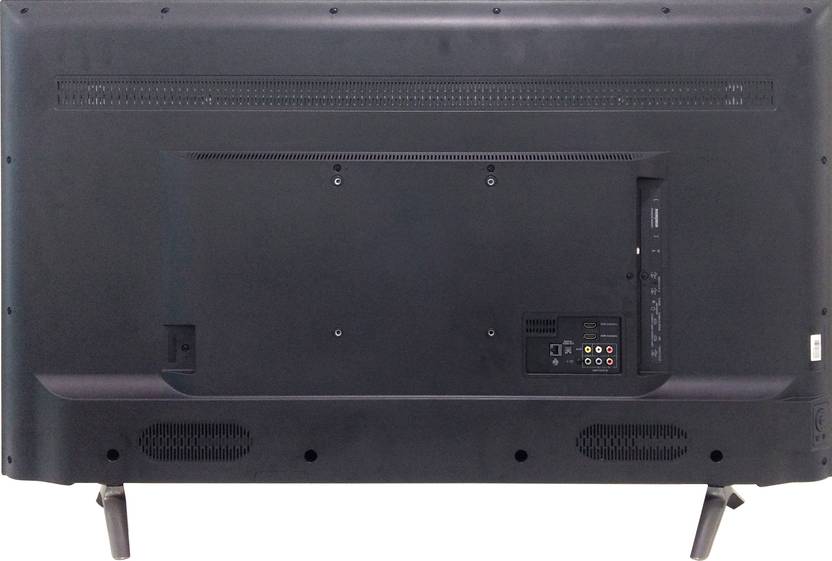 OS – Linux Based
HDMI – 4 Back
USB – 3 back
Bluetooth – n/a


WiFi – YES, Built In
Internet Features – YouTube, Netflix, Opera Web Browser, Opera App Store, Game Centre, Wi-Fi Bands: 2.4 / 5 GHz, App Shortcut Button on Remote: Netflix YouTube, UHD (4K) Streaming, Facebook, Kidoz, AccuWeather
Ethernet Port – YES 1 RJ45
View Angle – 178 Degree
Contrast Ratio – High Dynamic Contrast (Dynamic)
LED Display – Direct LED (DLED)
Refresh Rate – 60Hz
Video Formats – MPEG2, MPEG 4, H.265, H.264, DIVX, AVI, WMA, ASF, MP4, MOV, 3GP, MKV, MPG, MPEG, VOB, RM, WEBM, VRQ, OGM, FLV, Ultra Wide Color Gamut, HEVC Decoder, MPEG H.264 Decoder, Response Time: 9.5 ms, Personal Video Recorder
Smart Features – Premium Ultra LED, Smooth Motion Rate, Metal Design, Boot Up in 3 Seconds, 20 % Faster Channel Searching Time, Flat Style UI, Customized Combine Channels, Apps and Inputs, Built in Digital Media Player, App Launch in 2 Seconds, RF Radio Frequency Input, Time Shift, DTV Recording (EPG Scheduling / Start from Standby), Digital Media Player Content: Music, Video, Photos, Text, List of DMP Formats for Audio and Video provided, DMP Autoplay, DMP for UHD Content via USB, Picture File Extension: JPG, BMP, PNG, GIF, WEBP, MPO, JPS, PSN, Color (Front Bezel / Rear / Stand): Silver / Black / Silver, Speaker Mounted in the Box, Wall Mount Dimensions (Horizontal / Vertical): 200 x 200 mm, Wall Mount Screw Thread: M6 mm, Detachable Power Cord, Remote Controller (Technology / Part Number): IR / EN2B27, Operating System: Opera
Youtube – YES
Netflix – YES
Speakers – 2 
Speaker Output –  24W , Total Surround, AC3 Surround Sound, Automatic Volume Level (AVL)
Remote – 1 Remote Standard
Warranty – 1 Year Domestic
Buy it Here Vu 127cm (50 inches) (LEDN50K310X3D Ver: 2017)
---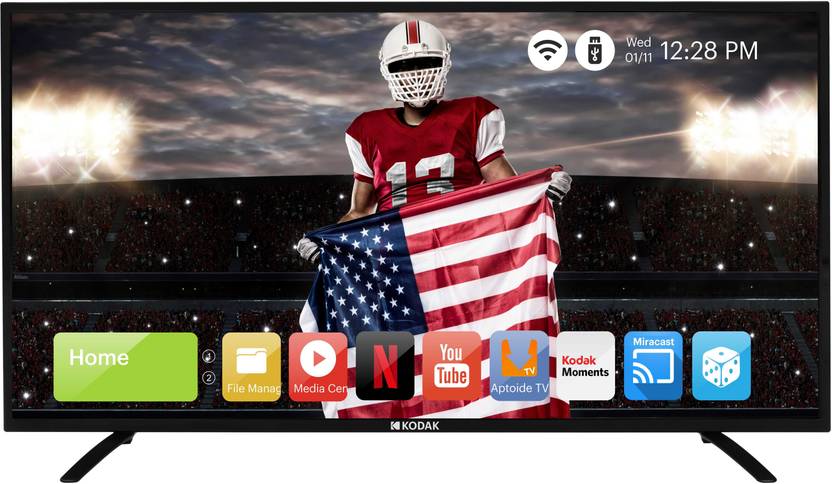 Rating – 4.1/5
Screen Type – LED
HD – YES
UHD – YES
4K – YES, 3840X2160
Curved Screen – NO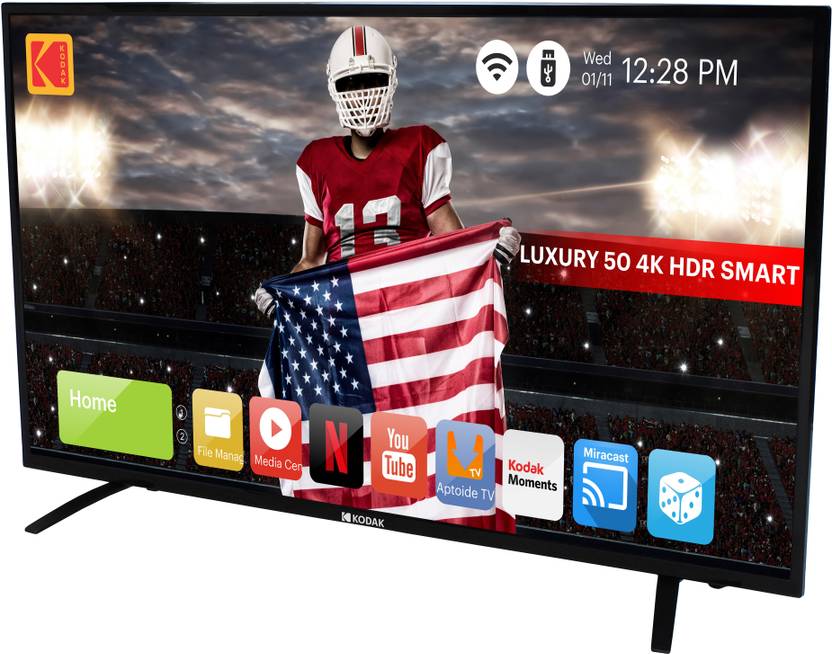 OS –  Android Based, Android 5.0 and Aptoide (Dual Operating System)
HDMI –  3Side
USB – 2 Side
Bluetooth – n/a
WiFi – YES, Wi-Fi Bands: 2.4/5 GHz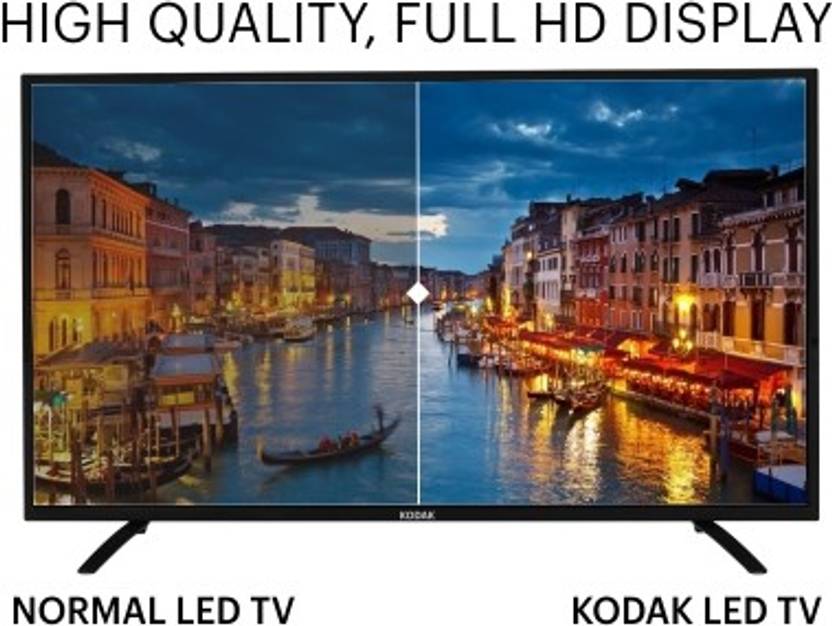 Internet Features – Web Browser, App Store, Game Centre, App Shortcut Button on Remote: Netflix YouTube, UHD (4K) Streaming, Screen Mirroring, App Store Type: Application Store, Pre Installed Browser, Pre Installed Apps: YouTube, Netflix, Hotstar, Facebook, Supported App – Others: All Major Applications
Ethernet Port – 1 RJ 45
View Angle –  178 Degree
Contrast Ratio – HDR
LED Display – LED
Refresh Rate – 60Hz
Video Formats – MPEG2, MPEG4, H.265, H.264, DIVX, AVI, WMA, ASF, MP4, MOV, 3GP, MKV, MPG, MPEG
Smart Features
RAM – 1GB
Storage – 8GB
Youtube – YES
Netflix –  YES
Speakers – 2
Dobly/DTS
Speaker Output – 20W, Automatic Volume Level
Warranty – 1 Year
Buy it Here Kodak 124cm (50 inch) (50UHDXSMART)
---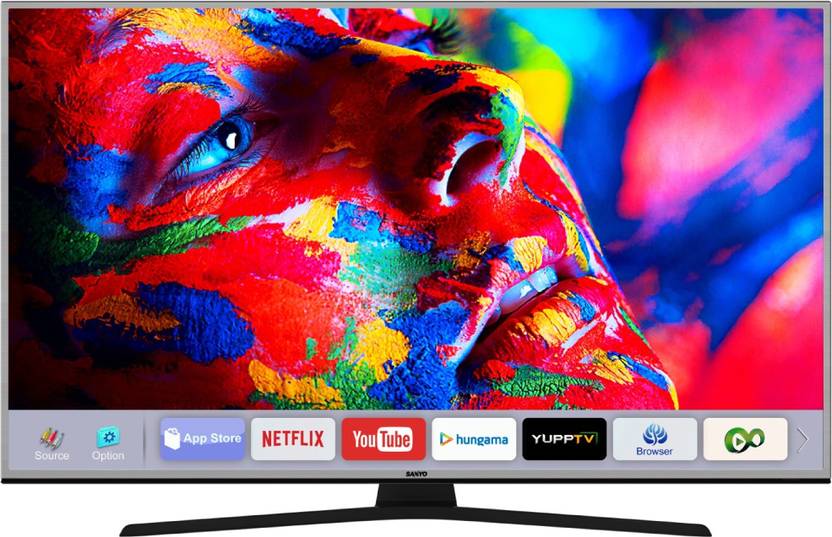 Rating – 4.2/5
Screen Type – LED
HD – YES
UHD – YES
4K – YES, 3840X2160
Curved Screen – NO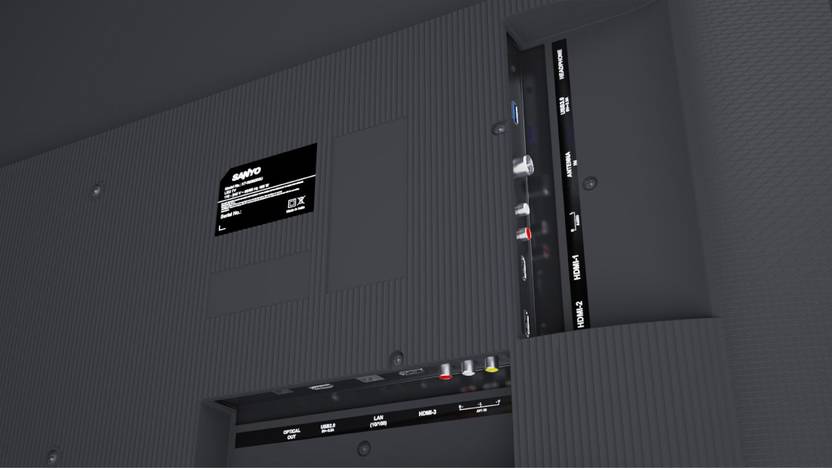 OS – Linux Based
HDMI – 2 Side bottom
USB – 1 Side Bottom
Bluetooth – n/a
WiFi – YES, Built in
Ethernet Port – 1 RJ45
View Angle – 178 Degree
Contrast Ratio –  HDR, 4000:1 (Static) (Static)
LED Display – LED
Refresh Rate –  60Hz
Video Formats – n/a
Youtube – YES
Netflix – YES
Speakers –  2
Dobly/DTS –  YES, Dolby
Speaker Output – 20W, Surround Sound
Warranty – 1 Year
But it Here Sanyo 123cm (49 inch) (XT-49S8200U)
---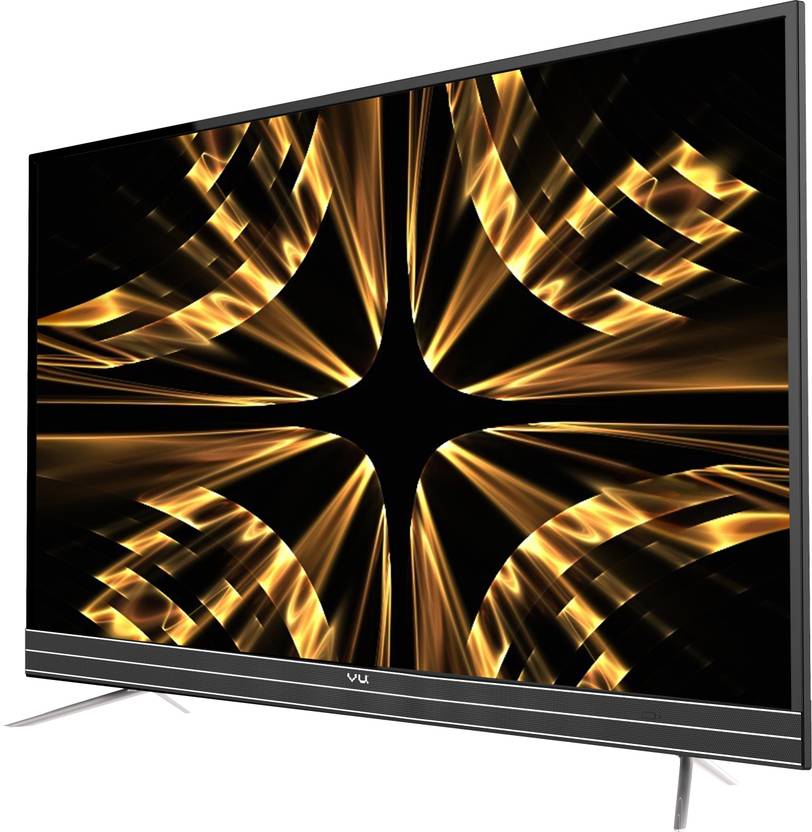 Rating – 4.2/5
Screen Type –  LED
HD –  YES
UHD – YES
4K – YES, 3480X2160
Curved Screen – NO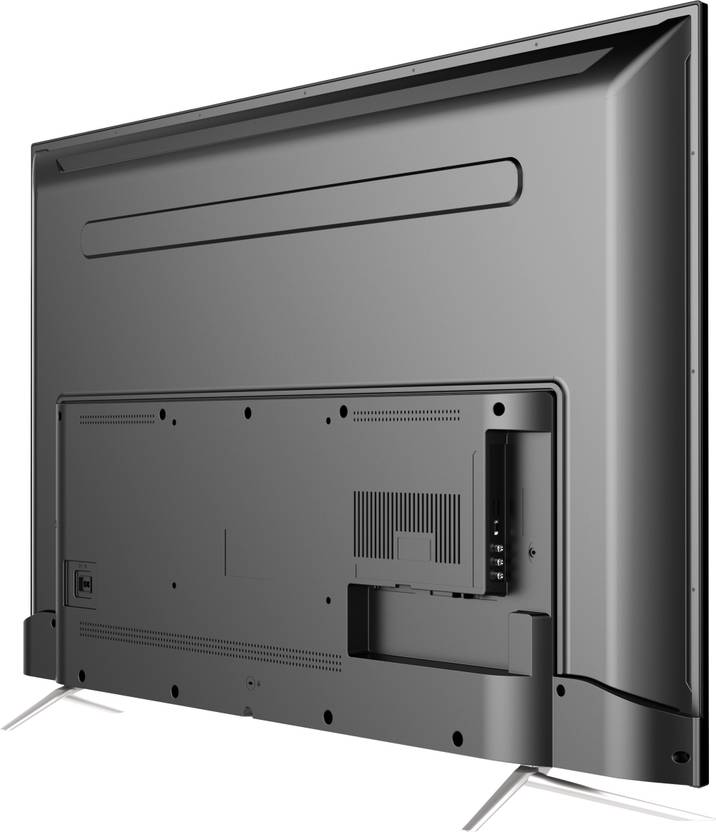 OS – Official Android
HDMI – 1 Side, 2 Rear
USB – 1 Side
Bluetooth – n/a
WiFi – YES, Dual band, 2.4GHz & 5.0GHz
Internet Features – Ethernet Port, Dual Band WiFi, Android 7.0 Smart OS, Play Store, Google eco system, YouTube & Netflix, Voice Search
Ethernet Port – 1 RJ45
View Angle – 178X178


LED Display – LED
Refresh Rate – 60Hz
Video Formats – MPEG1, MPEG2, MPEG4, H.263, H.264, H.265, MVC, WMV, VC1, VP9
Smart Features – Voice Control, Shortcut button of Netflix
RAM – 2.5GB
Storage – 16GB
Youtube – YES
Netflix – YES
Speakers –  2, Inbuilt Soundbar
Dobly/DTS – YES, DTS and DOLBY
Speaker Output – DTS True Sound
Remotes – 1 Standard + 1 Smart
Warranty – 1 Year
Buy it Here Vu Android 124cm (49 inch) (49SU131)
---
Best 43inch Smart TV's Under 50000Rs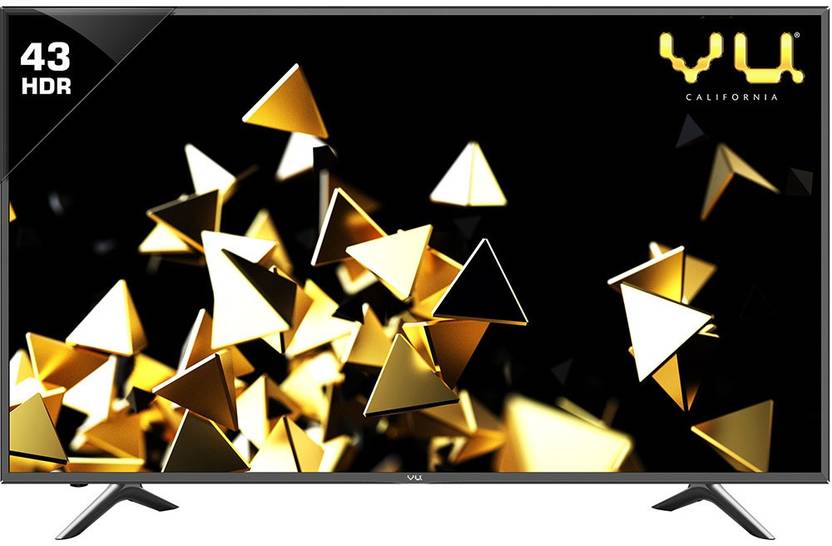 Rating – 4.2/5
Screen Type –  LED
HD –  YES
UHD – YES
4K – YES, 3480X2160
Curved Screen – NO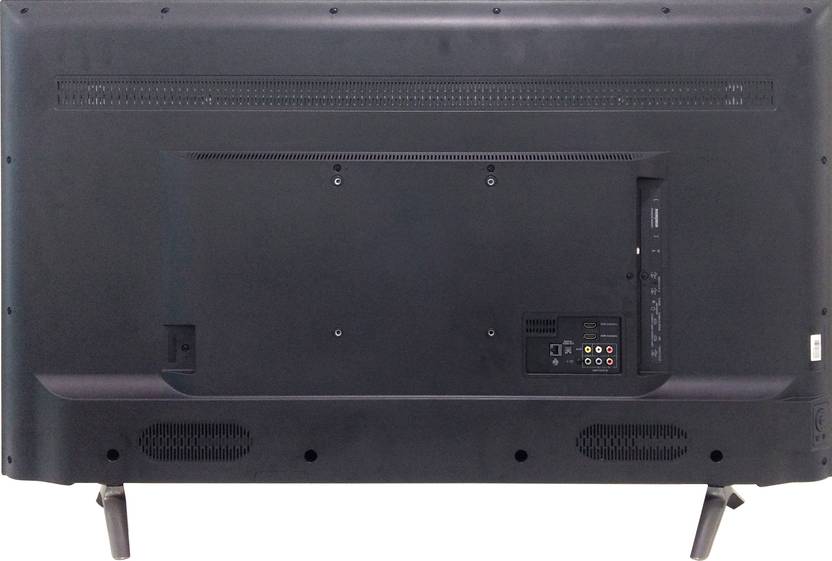 OS – Linux based
HDMI – 2 Back Side, 2 Left Side
USB – 3 Left Side
Bluetooth – n/a
WiFi – YES, Dual band, 2.4GHz & 5.0GHz
Internet Features – Anyview Cast (Screen Mirroring), Apps Store, Web Browser: Opera, Facebook, Games Center, Kidoz, AccuWeather, Built-in Wifi: IEEE802.11N, License YouTube and Netflix
View Angle – 178X178
LED Display – DLED
Refresh Rate – 60Hz
Video Formats – AVI, WMV, ASF, MP4, MOV, 3GP, MKV, MPG, MPEG, VOB, RM, WebM, VRO, OGM, FLV
Smart Features – Voice Control, Shortcut button of Netflix
Youtube – YES
Netflix – YES
Speakers –  2, Inbuilt Soundbar, Automatic Volume Level,Audio Equalizer,Audio Enhancement Type: DBX,Lip-sync Adjustment,Optical Audio Output
Dobly/DTS – YES, Dbx-TV and DOLBY
Speaker Output – 18W
Remotes – 1 Standard
Warranty – 1 Year
Buy it Here Vu 108cm (43 inch) (9043U)
---
Rating – 4.3/5
Screen Type – LED
HD – YES, Full HD 1920X1080
UHD – No
4K – NO
Curved Screen – NO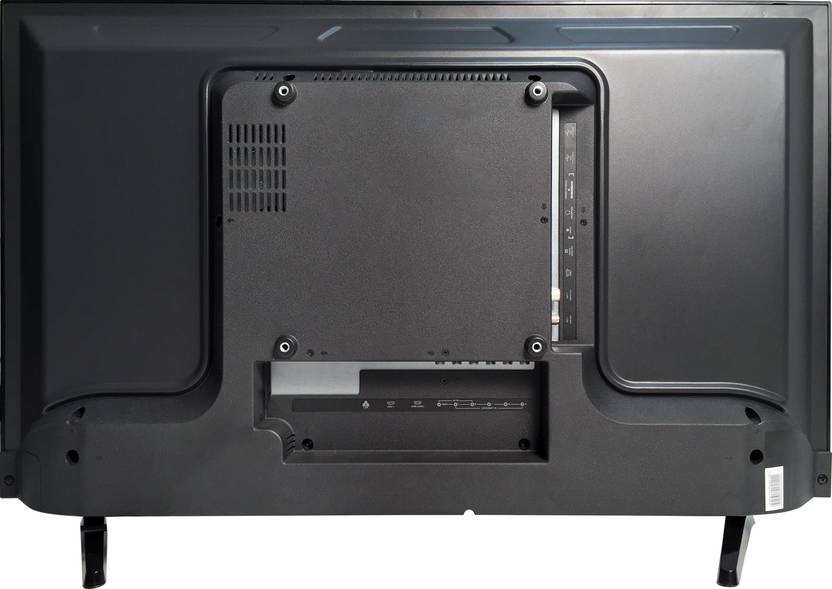 OS – Linux Based
HDMI – 2 Back
USB – 2 Back
Bluetooth – n/a
WiFi – YES, Wireless IEEE 802.11: b, g, n /2.4GHz
Internet Features – Any View Streaming (Mirroring),Sraf Browser,App Store,Smart Features: YouTube, Netflix, Browser, App store,Internet Television (IPTV),Any View Cast
Smart TV Features – Youtube, Netflix, Viaway, icfix, Aol.On, Game Center, Browser
Ethernet Port – 1 RJ45
View Angle – 178 Degree
LED Display – LED
Contrast Ratio – 1000000:1 (Dynamic)
Refresh Rate – 60Hz
Video Formats – MPEG4 / H264 / H265 Decoder
Smart Features – Digital Noise Reduction, Movies Support in USB Mode,Codec Supported: H.264, H.265, Response Time: 8 ms, Child and Program Lock, High Transmittance, Built-in Digital Media Player, Healthy from Inside, Energy Efficient, Brilliant Picture Quality,No Gray-Hair Standard Pinch Thin Frame, RF Signal Strength Indicator, Parental Rating Lock, RF Signal Quality Indicator, Favourite channels list, DivX Decoder
Youtube – YES
Netflix – YES
Speakers – 2
Dobly/DTS – YES, DOLBY Digital
Speaker Output – 20W AC3 Surround Sound decoder
Remotes – 1 Standard
Warranty – 1 Year
Buy it here Vu 109cm (43 inch) Full HD LED Smart TV (43D6575)
---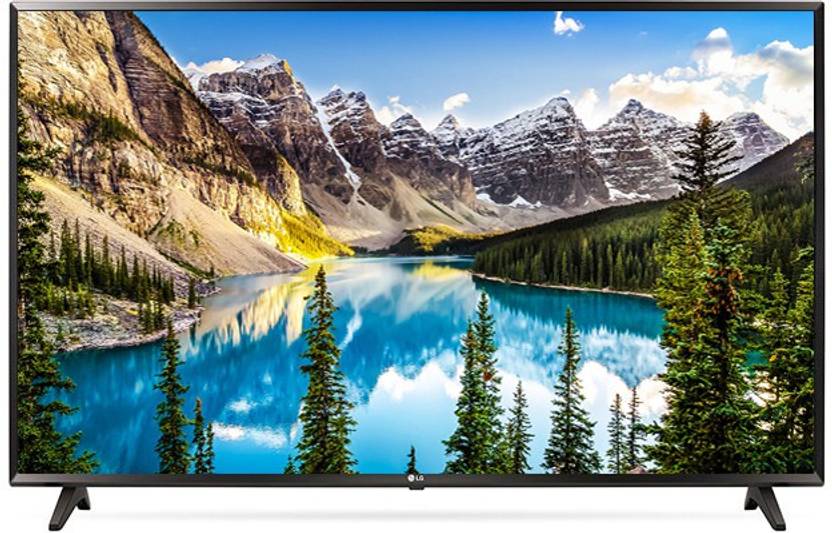 Rating – 4.6/5
Screen Type – LED
HD – YES
UHD – YES
4K – YES, 3840X2160
Curved Screen – NO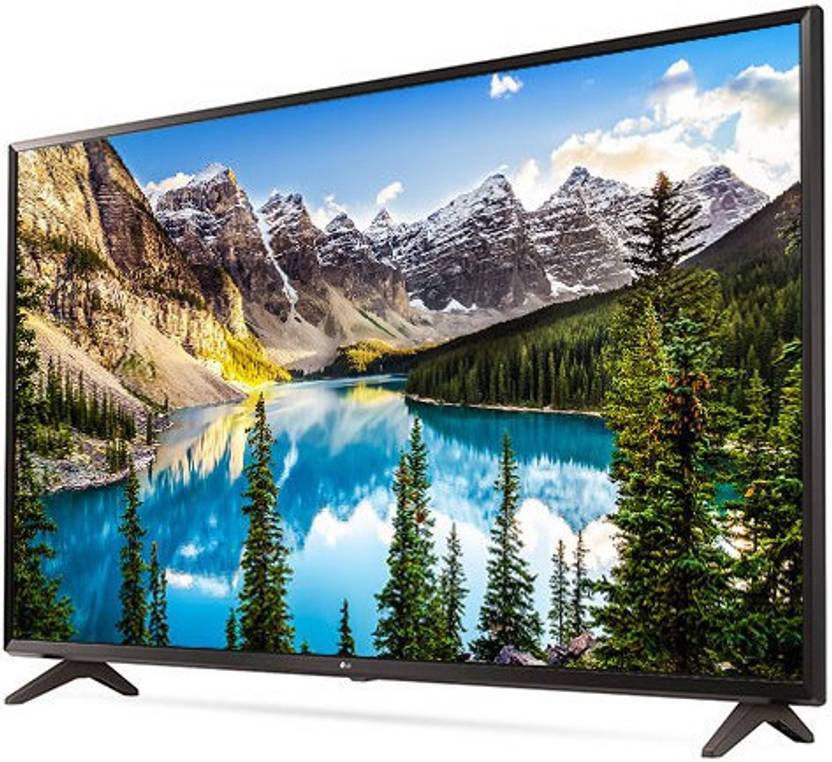 OS – Web OS
HDMI – 2 Rear
USB – Rear
Bluetooth – n/a
WiFi – YES
Internet Features – Launcher, Full Web Browser, LG Game World, Single Click Access, LG Store
Smart TV Features – Youtube, Netflix, Viaway, icfix, Aol.On, Game Center, Browser
Ethernet Port – 1 RJ45
LED Display – Slim LED
Refresh Rate – 50Hz
Video Formats – MPEG4 / H264 / H265 Decoder
Speakers – 2, Dolby Digital Decoder
Dobly/DTS – YES, DOLBY Digital
Speaker Output – 20W Ultra Surround, Clear Voice III, Smart Sound Mode, Sound Optimizer: 3 Modes (Stand Type I, Stand Type II, Wall-mounted Type), Wireless Sound Sync
Remotes – 1 Standard
Warranty – 1 Year
Buy it Here LG 108cm (43 inch) Ultra HD (4K) LED Smart TV (43UJ632T)
---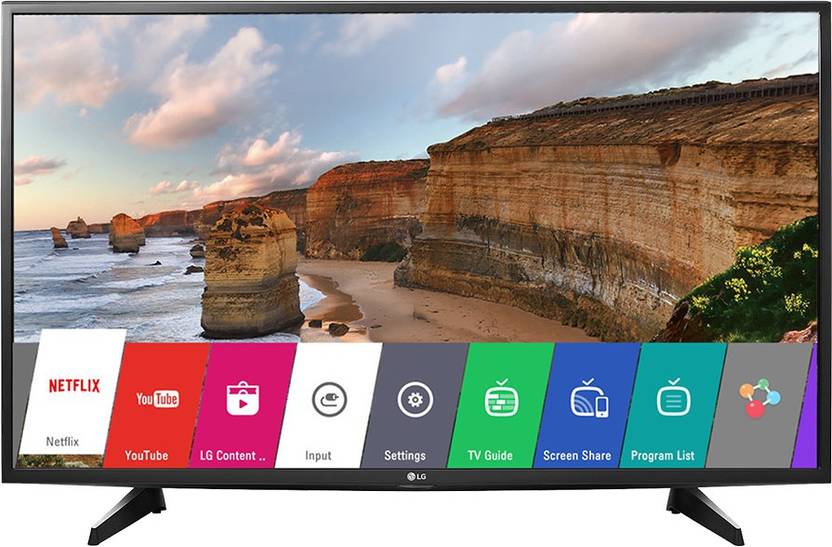 Rating – 4.3/5
Screen Type – LED
HD – YES, Full HD 1920X1080 – Blu ray
UHD – NO
4K – NO
Curved Screen – NO
Motion Sensor – YES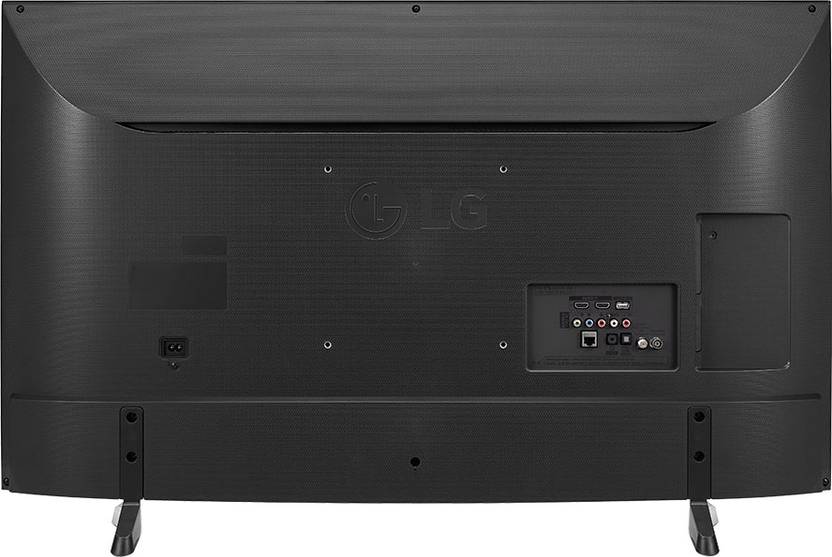 OS – Web OS
HDMI – 1 Side, 1 Rear
USB – Side
Bluetooth – n/a
WiFi – YES, Wifi Direct
Internet Features – Smart Phone Remote Controller (Remote App), App Store, Premium Content (India Specific Apps), Miracast Intel WiDi, Network File Browser, Netflix, YouTube
Smart TV Features – Youtube, Netflix. etc
LED Display – Slim LED
Contrast Ratio – Active Noise Reduction, Dynamic Color Enhancer, Picture Mode: 5 Modes (Vivid, Standard, Cinema, Soccer, Game)
Refresh Rate – n/a
Speakers – 2, Dolby Digital Decoder,DTS Decoder
Dobly/DTS – YES, DOLBY Digital
Speaker Output – 20W Virtual Surround Plus, Clear Voice III, Sound Optimizer: 3 Modes (Stand Type I, Stand Type II, Wall-mounted Type), Wireless Sound Sync
Remotes – 1 Standard
Warranty – 1 Year
Buy it here LG LH576T 108cm (43 inch) Full HD LED Smart TV (43LH576T)